Serial interface (RS-232)
A serial interface is a simple way to connect an FPGA to a PC.
This project shows how to create an asynchronous serial link like RS-232 in an FPGA.
Async transmitter
It creates a signal "TxD" by serializing the data to transmit.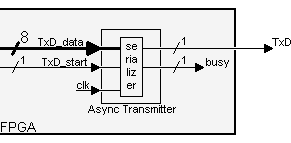 Async receiver
It takes a signal "RxD" from outside the FPGA and "de-serializes" it for easy use inside the FPGA.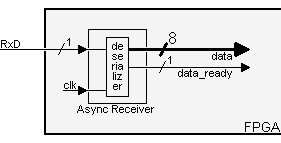 This project has 5 parts
The project's code can be found here.
>>> NEXT - part 1: How the RS-232 serial interface works >>>
---
This page was last updated on May 19 2013.